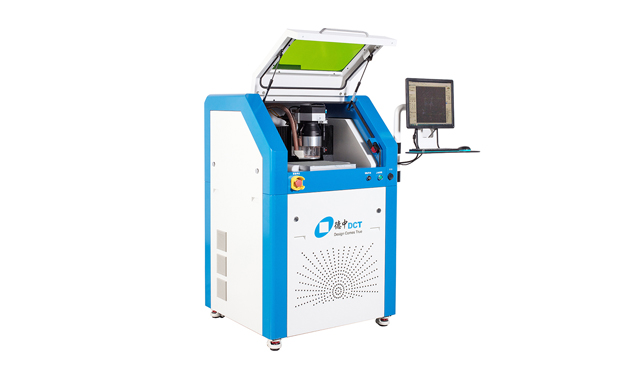 RapiDo Series Direct Laser Circuit board prototyping
Making conductive pattern as simple as printing, suitable for small batch production of variety of Circuit Board at home, especially fit for making high accuracy geometric pattern of RF and microwave. High quality and high speed of processing, compacted, reliable and easy to use besides, low cost of ownership and daily operation, DL series sets up a new standard of cost performance ratio for Circuit Lasers.
The equipment adopts high precision servo motor with C5 level ball screw. Simple structure, safe and stable. High performance digital scanning mirror combined with vacuum adsorption platform ensure high processing efficiency, precise depth control. The intelligent CCD system realize automatic positioning. One-key calibration, convenient and fast. Special dust collection system ensured clean and contamination-free processing.
Features
Direct laser stripping
Easy to operate, free from the traditional tedious process, production on demand;
Precision motion system
Construction based on natural granite, high precision motion system, stable and reliable;
Top - class optical devices
Extra-long life and efficient laser source;
Using data-driven devices
Distortion free, no plate-making diagram etching, shortest process;
Increase equipment level
Multifunctional and practical equipment break through the traditional limitations
Product parameters
Technical data

RapiDo300B

RapiDo300U

RapiDo300G

Laser wavelength

1,064nm

355nm

532nm

Repetitive accuracy

≤±2μm

≤±2μm
≤±2μm

Positioning accuracy

≤±0.5μm

≤±0.5μm
≤±0.5μm

Average laser power

30W

20W

20W

X/Y resolution

≤0.5μm

≤0.5μm
≤0.5μm

Scan field resolution

1μm

1μm
1μm

Working area

300mm x 300mm

300mm x 300mm
300mm x 300mm

Plattform

Granite platform, bridge structure

Dimension (W x H x D)

900mm x 1,450mm x 850mm

Weight

270kg

Data acceptance

Gerber, HPGL, Sieb & Meier, Excellon, ODB++, DXF
Configuration and options

RapiDo300B

RapiDo300U

RapiDo300G

Data processing software

CircuitCAM 7

Machine operating software

DreamCreaTor 3

Camera automatic positioning

Included

Exhaust unit

Included

Vacuum table

Included
Operating ambient

RapiDo300B

RapiDo300U

RapiDo300G

Power requirement

220VAC/50Hz,1.7kW

220VAC/50Hz,1.8kW

Ambient temperature

26℃±4℃